For lunch on my first day in Canada I was treated to a trip to a food court. For those of you who may not be aware, we really don't have anything comparable in the UK. We have the odd 'mall' here and there but even their eating facilities do not come close to what you find in a US or Canadian facility. So…much…choice!
On return to the conference, quite full to the brim with noodles, I attended a talk by Matthew Woolhouse (McMaster, Canada) who I first met when he worked at Cambridge in the UK. Matthew is a lovely chap and it is really nice to see that he has settled so well into his new role and life over in Canada. He was talking today about his new lab and his amazing collaboration with Nokia.
Matthew and his lab have a 5 year data sharing agreement with Nokia (and McMaster) to analyze Nokia's global music download data and interpret the outputs using social and cultural musical perspectives.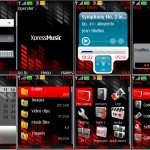 This is fascinating stuff – something I can't even comprehend. How on Earth do you go about dealing with data on this scale?! 180 million downloads from 27 countries, detailed in terms of anonymous user histories of locations, dates, and all the info about the music including artist and legal details. This is data on a new level to me.
There are a number of interesting questions you can look at with this research, and Matthew gave us a flavour.
Q1: New and emerging music; how do songs from different genres get taken up?
Three case studies: Rock, Pop and Rap songs. The pop song peaks in downloads in about the 3rd month following release whereas the Rap track peaks at 6 months. Rock takes 14 months to peak.
You can also look at corpus analysis, using the Million Song Database. Matthew compared the life cycle of a track from Cantonese Pop (largely in Hong Kong), Mandarin Pop (mainland China), Electronica and Indie/Alternative.
The Cantonses Pop had a quick and meteoric rise in the first month whereas the Electronica took 3 months to peak. The Mandarin Pop and the Indie/Alternative showed similar trajectories at closer to 7 months.
Q2: Swan song; how do tracks end their life?
The same 3 case studies came from Rock, Pop and Rap, and showed that Rock was still going strong in downloads a year after release whereas Pop and Rap tail off a lot sooner
In the case of the Corpus analysis from the 4 genres, it was a similar story. Both pops show a steep decline in downloads, though most strongly in Cantonese which showed the biggest initial hit. Electronica also goes off quickly after a quick discovery period whereas Indie shows a comparatively slower tail off.
Q3: Career trajectory: When do artists peak?
The download data also offers the chance to look at artists with long career and to tell when they made their most popular music. Matthew showed that the Rolling Stones peaked in 1965, with little interest in downloads of music they have produced since then. Michael Jackson by comparison had a much more extended mid-range period to his peak success which stretched from the 1980s and 1990s.
Q4: Rebirth: Life after death
The case of Michael Jackson also offers the opportunity to see how music downloading is impacted by the death of an artist and subsequent posthumous activity of a recording industry. Downloading of MJ's work showed a peak around the day of his death and subsequent significant 'aftershocks' in download peaks that coincided with releases of his concert film footage, and two remixed albums that featured some of his last recordings.
Overall this new research, on the largest socio-cultural scale I have seen in the discipline, offers unique insights into our music consumption habits and has huge potential to uncover interesting cross cultural impacts on our music listening habits.